Join us at the Dena'ina Center in Anchorage for Alaska's Premier MTSS Event!!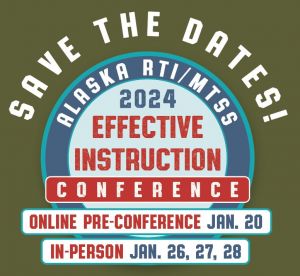 THREE ENGAGING OPTIONS – CHOOSE ONE OR ATTEND ALL THREE!

MTSS Virtual Conference for Small & Rural Schools
Saturday, January 20 – Online
Trauma Engaged MTSS Preconference
Friday, January 26 – Anchorage
MTSS Effective Instruction Conference
Saturday, January 27 and Sunday, January 28 – Anchorage

Register early to save your spot and lock in early bird pricing. Any educator in a school district that is an ASDN Level 1 member receives a $200 per person discount.

MTSS VIRTUAL CONFERENCE FOR SMALL & RURAL SCHOOLS

Keynote: Anita Archer

Join us to explore two critical areas: multi-tiered system of supports and the science of reading as practiced in multi-grade classrooms and small schools. Learn tools to address the academic and behavioral challenges faced by rural educators that can be immediately applied in your classroom.

TRAUMA ENGAGED MTSS PRE-CONFERENCE

Keynotes: Dr. Linda Chamberlain, Doug Modig
Alaskan experts in trauma-informed education will share research, evidence-based strategies, and practical techniques to help you understand and respond to students affected by trauma.

MTSS EFFECTIVE INSTRUCTION CONFERENCE: MEETING STUDENTS WHERE THEY ARE

Meet us in Anchorage to explore strategies to enhance multi-tiered systems of support and effective instruction in our schools. This conference aims to equip you with the knowledge, strategies, and resources to effectively meet the diverse academic, behavioral, and social emotional needs of your students.

KEYNOTE SPEAKERS

Dr. John Hattie is a researcher in education and author of Visible Learning, an international best-seller that resulted in a series of books synthesizing 20 years of research about what works best for learning in schools. His research interests include performance indicators, models of measurement and evaluation of teaching and learning. His work aims to shift the focus from what teachers are teaching to what students are learning.

Princess Lucaj, is producer, writer and actress. She is the creative producer of Molly of Denali, the award-winning children's show set in Alaska, featuring an Alaska Native lead character.  Princess leads a team of Alaska Native writers and advisors to ensure that the show authentically portrays the life of an Alaska Native girl growing up in Alaska, and works to integrate indigenous knowledge into the series.

Dr. Julie Stern is a four-time, bestselling author with two decades experience facilitating adult learning. She supports educators and parents with tools to empower young people to make sense of complexity and become pattern seekers. The pace of change and complexity of our world today requires that we teach young people how to recognize patterns and transfer their learning so that they can use their knowledge and skills in authentic and creative ways.
Watch here for registration information.